saturday evening, the weather forecast not too good, moderate temperatures and a certain probability for rain. never mind for me, but saturday will be linz marathon. in the past I've never been particularly interested in this event, on the contrary, since the event blocks the streets around my home for half a day – so I tried to avoid contact.
I woke up early the next day, the sun was shining and so I grabbed my x-pro 1, caught the bus and decided to watch the start of the handbikers before returning home for breakfast. but sometimes it's different than you think – and although I didn't stay until the first champs reached the finish, there were plenty of nice pictures to take and so I stayed quite longer – and returned home for lunch.
during shooting I really enjoyed the advantage of the x-pro 1 over the E-1 – the optical viewfinder. the special construction of Fuji's OVF – changing the captured frame size dependant on the focal length and thus offering me to see a wider scene than finally captured – enabled me to foresee the right moment for pressing the shutter. well, at least in theory. since most pictures were taken with the 60mm f2.8 macro lens, I had to deal with the slowest autofocus of all X-Fujinons. prefocusing helped a lot but also brought me a lot of blurred photos with an open aperture.
samstag abend – die wetterprognose für sonntag sind nicht gerade berauschend: mittelmäßige temperaturen und eine erhöhte wahrscheinlichkeit für regen. eigentlich ist es mir egal – ich muss morgen beim linz marathon nicht laufen..
in der vergangenheit war ich nie sonderlich interessiert an diesem event, wurde doch die gegend rund um unser zuhause immer den ganzen vormittag gesperrt.
am sonntag wachte ich (zu) früh auf und – erstaunlicherweise – schien die sonne, sodass ich spontan meine x-pro 1 schnappte, mit dem bus zum start der handbiker um nullachthundert mit der intention fuhr, zum frühstück wieder zuhause zu sein. aber manchmal kommt es eben anders, als ich mir das vorgestellt habe und obwohl ich nicht den zieleinlauf der champions miterlebte, kam ich doch erst wieder zum mittagessen zurück.
während der aufnahmen konnte ich einen vorteil der x-pro gegenüber der E-1  voll auspielen. fairerweise muss ich gestehen, dass mir dieser erst während des shootings richtig bewuss wurde.
der aufnahmerahmen im OVF wird je nach brennweite des objektivs angepasst und macht bei einer brennweite um die 50mm nur ein viertel des sucherfeldes aus, was dem fotografen also erlaubt, ein erweitertes aktionsfeld zu beobachten und somit im richtigen moment den auslöser zu betätigen. da ich einige aufnahmen mit dem 60mm f2.8 makro linse gemacht habe, musste ich leider auch mit dem langsamsten autofokus der gesamten X-objektivserie herumschlagen. vorfokussierung kann hier abhilfe schaffen, liefert aber leider bei offenblende und geringer schärfentiefe auch viele unscharfe ergebnisse.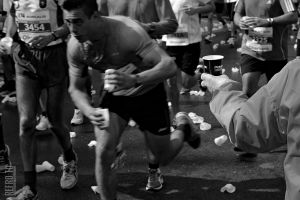 I'm quite pleased with the overall result, although I missed some great shots, therefore I will give it another try next year – for sure.
and now enjoy the pictures in my linz marathon gallery!

jedenfalls bin ich mit den ergebnissen nicht unzugfrieden – wenngleich ich nicht immer jene fotos schoß, die ich vor meinem geistigen auge hatte. daher werde freue ich schon auf die nächste ausgabe des linzer marathons 2014.
jedenfalls viel spass beim betrachten der bilder in der linz marathon gallerie!